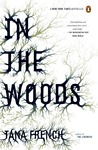 In the Woods by Tana French
My rating: 4 of 5 stars
I really liked this one, the first in the Dublin Murder Squad series, it features Detective Ryan who has a past very few people know about, when Ryan was 12, he and two friends went into a wood but when they didn't come out again and a search was raised, only he was found. When a murder occurs years later, by the same wood, by chance Ryan and his partner Cassie are assigned to the case and they can't help but wonder if the two cases are linked.
The book had that crucial thing I like in my murder stories, really good interplay between the detectives investigating the case and not as much concentration on the criminals. Ryan and Cassie's relationship is wonderful, perfect buddy buddy cops. However as so much time is spent on the cops relationships, I did find that the other characters felt less well drawn and as there were three groups of suspects, I had trouble distinguishing between each person in the group. Other than that though, it was a really good book and I will definitely be reading the next one!