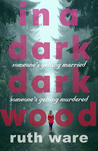 In a Dark, Dark Wood by Ruth Ware
My rating: 5 of 5 stars
In a dark dark wood is one of those books that I was aware of for months, thinking "I'll read that one day, when I can't find anything else I fancy reading. It looks like it'll be okay but nothing amazing", ohh I was wrong! In a dark dark wood is definitely my favourite book I've read this year, so far. It's not perfect, there was nothing that happened that wasn't blindingly obvious chapters before but in a way even that was good, as it ratchets up the tension as the heroine blunders blithely on and the reader looks on in a can't look but I want to look car crash manner.
Anyway, I haven't said what the book is about, it's basically the hen weekend from hell. Nora, the heroine, has not seen most of her school friends for ten years, as she had fled when she had broken up with her boyfriend. So, when out of the blue, she gets an invite to the hen weekend of her old best friend, Clare, she is very tempted not to go, all her gut instinct is telling her that going would be a very bad idea. As the reader and also someone who would also hate all that enforced joviality, I was also going "don't go!" but that would have been a very short book 'main character successfully listens to her gut instinct, lives happily ever after, the end'. But unlike a lot of books where the author could slightly unconvincingly force their character onto a path that means they have a story to tell and the reader is going "yeah right", Ware does give very plausible motivation as to why, against all her instincts, Nora does go.
At the hen weekend, in a modernist glass house in the middle of nowhere, in a forest, in the snow, Nora is reunited with old friends plus others who came into the bride to be's life later on. There's a doctor, a very maternal lawyer, a playwright and Clare's new best friend, Flora, who has a few issues, to put it politely. Flora has organised the hen weekend and it HAS to be perfect but throw in some unresolved past and of course it isn't. There is a lot of tension and a lot of 'whodunnit', although like I said, I thought it was fairly obvious but even then, still very, very good.